Sample coolers
All coolers have a spiral wound coil with counter current cooling water flow and perform an optimal heat transfer and quick sample throughput.
Custom made Sample coolers are a speciality of Watcon, we design, calculate and manufacture these tailor made, either for steam, water, hydrocarbons, fluids or gasses. Cooled with water or air. For the power, petrochemical, pharmaceutical and bio industry. According any code or standard, Including all necessary certificates and tests. 30 years of references available !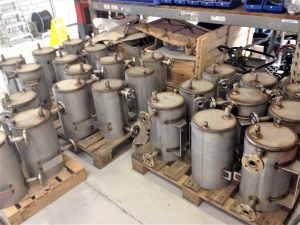 Standard coolers for water/steam
The modern highly effective compact sample coolers are especially designed for steam/water analysis systems.
Entirely manufactured out of ss 316
All connections (Cooling Water, Sample)  at the top, shell can be removed without disconnecting
Easy inspection of completely exposed coil after shell removal
Cooling coil out of one piece, no welding
Any cooling capacity needed available
Coil diameter and material adviced depending on process data